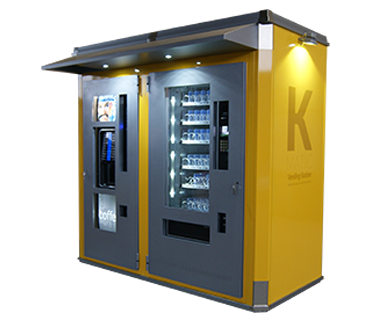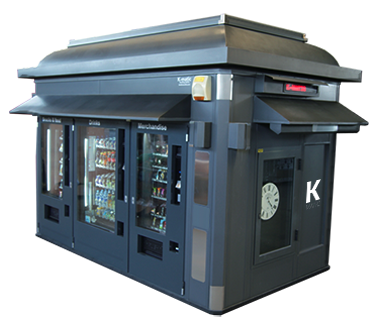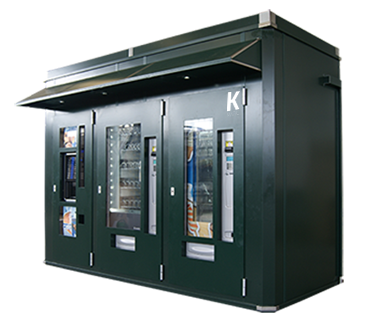 VENDING STATION WITH WAREHOUSE
THE FIRST REAL OUTDOOR VENDING SYSTEM
K-MATIC vending station thanks to its features can be positioned on any area of interest. It guarantees a perfect operation and maximum protection of the vending machines by climatic agents and vandalism, offering for the first time the chance to look at those spaces with great potential but until now unused.
Vending station perfectly integrates with the surrounding area thanks to the innovative design developed up to date with the latest trends. It constitutes an element of attraction and requalification of the locating area and ensures a continuos flow of customers.
The armored structure made of galvanized steel is waterproof, insulated and sealed in order to form a real defense from vandalisms and from weather.
Vending machines are anchored to the structure so as to obtain a single monolithic body and the security doors are equipped with sealing gaskets.
Vending station is fully autonomous for an immediate use. Equipped with electrical panel, LED lighting, air extraction, temperature control. It allows big savings in terms of organization and the perfect operation of vending machines.
Vending station can be customized according to the required format and to distinguish itself by other managements:
- choice of the color of the powder coating;
- graphics, branding, private label;
- advertising.
Find a strategic location.
Vending station is self-supporting in order to
allow its lifting. This means that it can be
carried and installed without loss of time
due to the mounting. It also can be moved
with vending machines on board.
Vending station is containerizable.
A revolutionary, smart and fast system.
Available in different standard sizes; usable with any vending machine for the resale of food and non-food products; version with internal warehouse; insertion of accessories on request (e.g. CCTV, waste compactors, display, electric car charging point).
Vending station.
The new vending frontier.