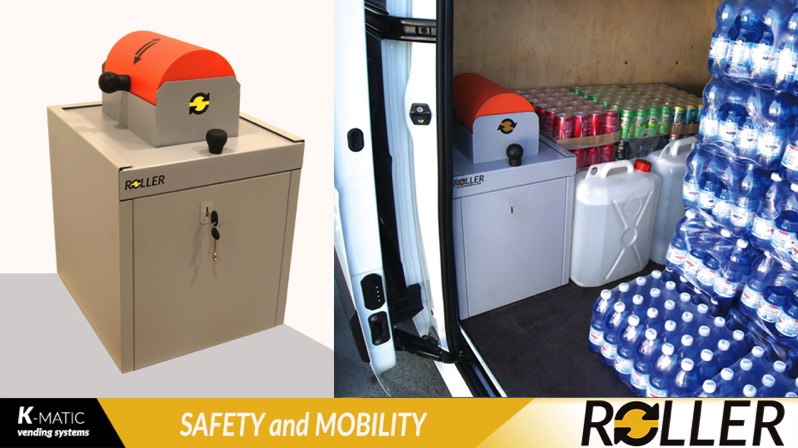 THE SAFE WITH THE KEYLESS INTRODUCTION SYSTEM STUDIED FOR VENDING
The solution for big and small vending operators that ensures the safe management of the daily income.
Installed on the vehicles ROLLER allows the deposit of the cash inside the safe without the use of key, in order to avoid its manipulation and possible theft until it will be taken by those who have the key.
Positioned in the counting room allows the immediate securing of the money until the count.
KEYLESS INTRODUCTION SYSTEM
The ROLLER patented device allows the quick insertion of the cash inside the safe without using the key.
Installed on vehicles and in the counting rooms prevents the manipulation until the withdrawal by those who have the key.
The anchor kit allows the firm securing to the floor of any vehicle. Equipped with anti-vibration mounts for an easy transport. ROLLER is available in different sizes depending on the desired capacity and the fee space inside the vehicle. The TALL version with only 20 cm more in height almost double the internal capacity while maintaining the same width and depth.
The use of high quality materials ensures strenght and security:
- made entirely of steel;
- powder coating;
- ball bearing drawer slides:
- anti-vibration mounts;
- ergonomic handles;
- security lock with coded key;
- anti-intrusion device.
ROLLER is supplied with the anchoring kit for securing it to the floor, in order to avoid the removal from the installation site.
Unified lock available for the management of high number of ROLLER with the same key.
Safety and mobility.
Protect your income during the day.