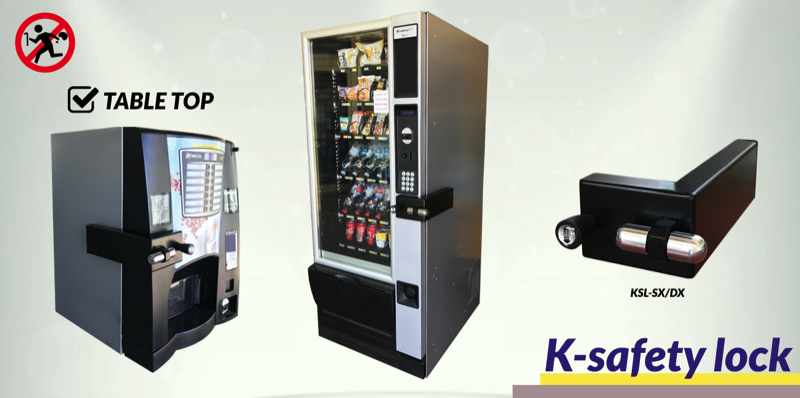 THE SECURITY LOCK FOR VENDING MACHINES
K-safety lock is the affordable and professional solution to ensure the closure of the vending machines. The system constitutes an effective deterrent against burglary and attempts to open the door. Applied on the casing of the machines obstructs and opposes physical resistance, stopping the thief when he realizes that the machine is well protected.
Affordable and professional.
K-safety lock is a cost effective solution that maintains the same quality of the K-MATIC professional systems.
The saving is not exclusively due to the low price but also to the speed of application and the certainty of the result obtained that allows you to protect your vending machines by more and more frequent thefts.
K-safety lock is available for use on most of the vending machines on the market. Designed to be applied directly on the casing, it is able to adapt to any kind of machine, also to table top models thanks to its compactness.
The closing through padlock allows a great flexibility in the choice of the system management mode and also allows to manage it with the same coded key of the vending machine.
K-safety lock provides efficient protection from attempts to open the vending machines. Thanks to its strength when the system is closed and clamped by padlock is not possible to open the door because it is blocked.
For a maximum safety level K-safety lock can be applied to both sides of the vending machine (lock side and hinge side) or in combination with the K-safety bar systems. The closing is expected through padlock which allows to increase the degree of security depending on the type of padlock chosen by the customer.
K-safety lock.
The affordable and professional solution against thefts.