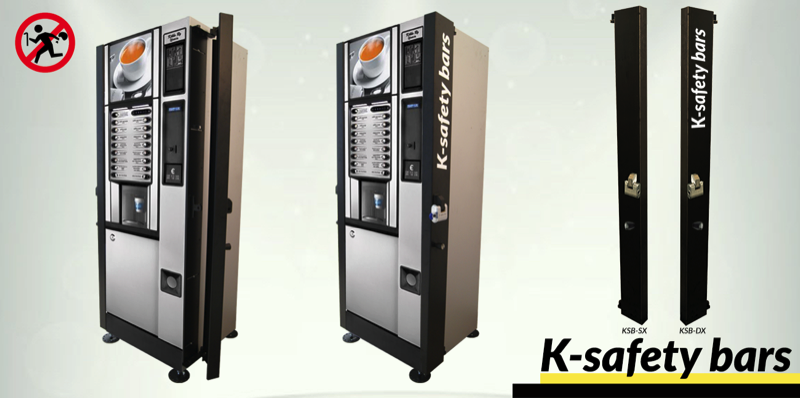 THE SECURITY BARS FOR VENDING MACHINES
K-safety bar is the innovative system designed to protect the sides of the vending machines from the increasingly frequent break-ins. A professional solution of rapid application that constitutes an effective deterrent against burglary and that minimizes the impact on the vending machine, as it does not obstruct the areas of visibility and product selection. Its application allows to recover the aesthetics of damaged machines.
Specially designed for the vending industry.
The system is designed for the specific application on vending machines against attempts of vandalism and theft.
This allows to obtain a great saving not just in terms of money but also in terms of rapidity of application, of certainty of the result obtained and durability. The cost for the installation of one or two safety bars is less than the purchase of a new door and the result in terms of safety is incomparable.

K-safety bars are available for the mounting on most of the vending machines on the market. The closure with padlock allows great flexibility in choosing how to manage the system and also allows to manage a large number of K-safety bars with the same coded key of the vending machines.
For the vending machines with non-standard door is provided the Custom version on request.
K-safety bar protects the door opening thanks to its strength. When the bar is in the closed position and locked by padlock is not possible to open the door and are prevented break-in attempts, on the lock side or on the hinges side.
For a maximum level of safety the bar can be applied to both sides of the vending machine or in combination with the K-safety lock. The closure is provided through padlock, this allows to increase the degree of security depending on the type of padlock selected by the customer.

K-safety bars.
The solution against burglary attempts.