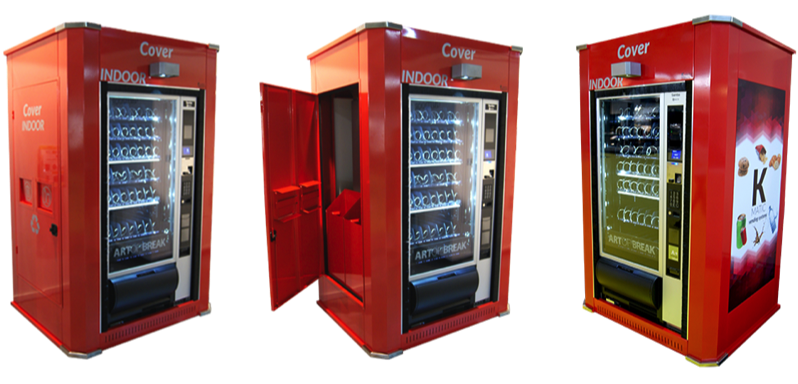 THE FUNCTIONAL SYSTEM MADE TO ORGANIZE INDOOR VENDING AREAS.
K-MATIC cover permits to position perfectly the vending machines into the surrounding context and improves the aesthetics of vending areas in order to increase the quality of the coffee break thanks to a functional, clean and organized location.

Innovative design up to date with the latest trends. K-MATIC cover is studied with maximum attention paid to functionality. It increases the visibility of the vending corner and represents an element of attraction that encourages impulse sales.
Cover comes flat-packed with mounting instructions. It is studied in order to allow anyone to proceed to its simple installation. All accessories can be inserted at a later time as upgrade, this makes the system extremely flexible and continuously implementable.
Cover is completely modular. Starting from the basic module for one vending machine it allows to create perfectly organized vending areas, which correspond exactly to your needs, thanks to the wide range of accessories (e.g. waste containers, LED lighting) and the extension kit that allows the housing of the number of vending machines you want.
K-MATIC cover is made using high quality materials and last generation manufacturing techniques:
- 1,0-1,5 mm thick steel sheet;
- anti-corrosive treatment;
- scratch-resistant powder coating. Possibility of anchoring vending machines to avoid oscillations caused by pushing.
Cover integrates perfectly vending machines to fit-out a functional, organized and hygienic vending corner. The insertion of the new space saving waste container optimizes the space available at the most.
Cover can be customized according to the required format and to distinguish yourself by other managements:
- choice of paint color;
- graphics, branding, private label;
- advertising.
Cover basic module - Exploded view

Cover basic module - assembled view

Cover basic module with space-saving waste containers integrated into the flanks

Extension Kit (for each vending machine added to the basic module)

Basic module with one extension kit (housing for two vending machines)

Exploded view - Basic module with one extension kit

Basic module with frontal waste container and one extension kit (housing for two vending machines)

Housing for three vending machines
Basic module + frontal waste container with display predisposition + two extension kits
Increase the quality of service provided.
Fit-out a clean, organized and visible vending area.